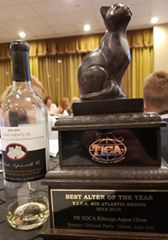 IW SGCA Riterags Aspen Glow:
BEST ALTER Mid Atlantic Region
BEST Ragdoll Alter Mid Atlantic Region
We celebrated all of the gorgeous Mid Atlantic Region's winning cats and kittens with our TICA friends and judges this weekend at our Regional Awards Banquet and Show. This was Aspen's big night! Everyone stood up as Aspen accepted his awesome Trophy, award, and Ribbon for the BEST ALTER in the Mid Atlantic Region. We are so grateful and proud of our sweet boy! Aspen also had a great show this weekend!
Thank you to our amazing TICA family for your support, and to Deb and Marc Parks for trusting us with this amazing Ragdoll.