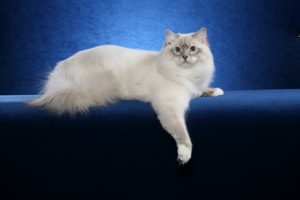 This is Double Grand Champion Riterags James Bond! He is now owned by Jennifer Gibson, thank you Jennifer for such a beautiful presentation of him.
He recently achieved his title of Double Grand at his first adult show in Great Lakes Area Cat Enthusiasts Rosemont, Il, March 28-30 2008. He had just turned 8 months old on the 27th of March. He was the youngest Ragdoll cat in the entire show. He had 5 Best Cats!!!! Two of the Bests were in the RFCI International Ragdoll Congress!!!! He was Best Ragdoll Cat in the Congress and 2nd Best of the Best Ragdoll Cat overall in the show!!!!!!!!!! Go James Go!!!!!!!!!!!
Best Ragdoll in RFCI Show in 2008, Most wins!!!!