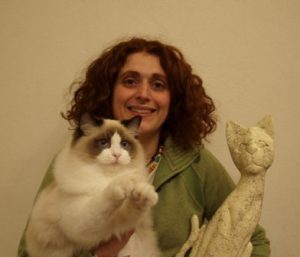 Hi Deb & Kate,
How are you doing? We are proud to announce you that our beloved Mickey was once again Best in Show at the FIFE International Cat Show in the medieval city of Braga (Portugal). All the judges voted him as the Best Junior kitten of semi-long cattegory (Ragdoll, Norwegian Forest Cat, Sacred Birman, Maine Coon….) so he was Best in Show on Saturday and again on Sunday. All the judges told us that Mickey WAS a ragdoll ? For all of them he is just PERFECT!! They LOVED them ? Find attached some photos that I took at the Cat show to Marta with Mickey and the sculture he won ?
He has got 3 Best in Show at Fife cat shows, so if he gets 2 more then he will be named JUNIOR WINNER and will be added to his FIFE pedigree ?
Anyway, we hope that you are very happy with his success at cat shows as we do!! ?
Love,
Reme & Marta & Mickey
Busibu Cattery
Busibu Cattery